CONTACT US
Request a Quote
We are committed to protecting your privacy at DeFranzo Demolition Inc. We will not collect any personal information from you that you do not volunteer, and we are the sole owner of all information collected on this site. We do not sell, share, or rent this information to others in any way that we have not mentioned in this statement.
Where We Are Located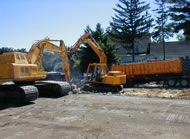 119 Langford Rd.
Raymond, NH 03077
Use The Phone
Office: (603) 895-4900

Drop A Line
Email: defranzodemo@gmail.com
We're Here
DeFranzo Demolition is committed to excellence in communication and service. If you call us you can guarantee our response in a timely manner.
Remember, no job is too small or large for DeFranzo Demolition. Give us a call.
LET ONE COMPANY HANDLE ALL YOUR REMOVAL NEEDS
CALL 603-895-4900